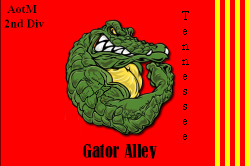 Gator Alley Division
II Corps/Army of the Mississippi
MG Tim Reneau commanding
recently produced:
Disaster at Chickamauga Creek!
As a pre-cursor to the Western Fireworks Tournament just recently,
a couple of officers from XVIth Corps/Army of the Tennessee
suffered a massive defeat at the hands of
the Gator Alley Division II Corps/Army of the Mississippi
in a ferocious multi-player match!
Although the contest was decided in as little as 15 turns,
the demoralized Federal forces fought on even though
25 of their officers were either killed, captured, or wounded,
including MG William Rosecrans!
46 guns were captured and whole divisions were wiped out or were surrounded!
Victory Points amounted to 3 times the amount needed for a major victory!
Will the Army of the Tennessee seek revenge at the upcoming
Western Fireworks Tournament...?
Inquiring minds want to know!