Field Marshal Promotion in the Anglo-Allied Army (AAA) for Mike Davies
By His Majesty,
George the Third
, by the Grace of God, of the United Kingdom of Great Britain and Ireland, King, Defender of the Faith, Duke of Brunswick-Lüneburg, Arch-Treasurer and Prince-Elector of the Holy Roman Empire.
In consultation with the
Army Commander (AC) Field Marshal Sir "Lucky" Jim Hall, 1st Duke of York & Albany K.G.
and the
Army Chief of Staff (CoS) Field Marshal Sir Andrew Moss, 1st Duke of Wellington K.T.
For greatness on the field of battle against La Grande Armée and for longevity in service to the Anglo-Allied Army (AAA) and George III, King of Great Britain and Ireland, we do hereby appoint:
Lieutenant General Sir Michael Davies, 1st Earl of Glamorgan K.T.
23rd Regiment of Light Dragoons
3rd British Cavalry Brigade
Cavalry Corps
Honorary Command: 4th Squadron of the 1st Regiment of Life Guards, Household Cavalry Brigade
to the highest rank in the Anglo-Allied Army (AAA) of:

Field Marshal
Further recognition of the Field Marshal's many battlefield victories and his service to King & Country are reflected in the awarding of the below Medals, Awards & Orders:
Order of Saint Michael and Saint George Collar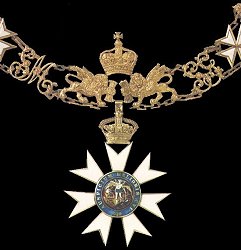 Awarded for having 2,000 points.
Militaire Willems-Orde Grootkruis Sjerp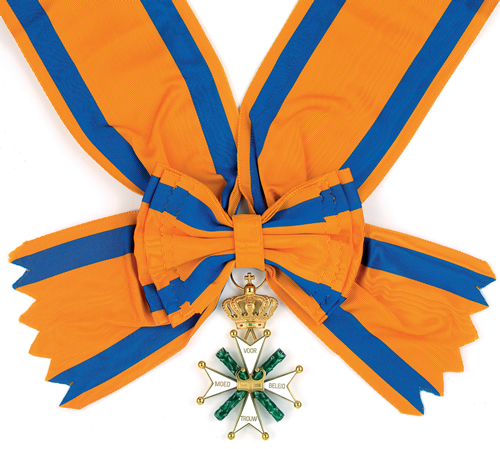 Awarded for accumulating a minimum of 2,000 points and having at least 20 Victory Points. (Mike actually has 48 VP's and was waiting to get to 2,000 points)
Emblema da Cruz Grandiosa da Ordem Militar de Cristo (Military Order of Christ Grand Cross Badge)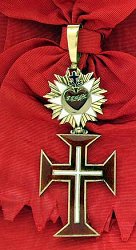 Awarded for 25 victory over a French opponent.
with the most significant honors, in recognition of the Earl of Glamorgan's service above & beyond his station of assignment and command, serving as an Training Instructor at not only the Royal Military Academy (RMA) & Koninklijke Militaire Academie (KMA), but also the Austrian Wiener Militärakademie (Vienna Military Academy), Svenska Armékår Militärhögskolan Karlberg (Swedish Army Corps Military Academy Karlberg), Preußische Armee Kriegsakademie (Prussian Army War Academy) and the Imperial Russian Military Academy. As a cornerstone of training for new Coalition Officers & having provided training for 6 new recruits since early 2022.
further with conspicuous gallantry on the field of battle, with special notoriety to the 15 victories gained out of 24 battles fought, since returning to service.
and with camaraderie & friendship shown to all sides of the conflict when present in the Rhine Tavern, as well as celebrating the achievements of others, while bestowing honor to the Crown and providing an example of the best standards for an officer in His Majesty's service.
We do hereby decree, With Royal Assent and Issued at the Court of St. James, the awarding of:
The Most Honourable Military Order of the Bath Companion Breast Badge (CB)
and
The Most Honourable Military Order of the Bath Knight Commander Neck Badge (KCB)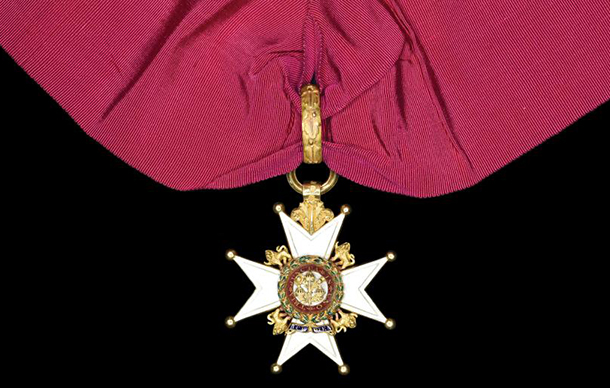 Signed at Brussels, with Notices Issued in London, Cardiff and all throughout Glamorgan, Wales & every other land in the realm, on this 1st day of March,
Saint David's Day
, of the current year,
Mike has been a longtime member of the NWC, first commissioned in October 2000 and having returned in June 2021 after being away for years. He's been a "tour de force" since returning, providing not only extensive training for new officers to the Coalition, but also with his activities on the battlefield and in the forums. Often a part of both the fun & celebrations and also lending suggestions, advice & feedback to others. He is also always lending a hand on the Coalition side of the Club. Further Mike has actively recruited new members from WDS' Facebook group, as well as other venues.
It is safe to say that the Coalition has benefited greatly from his involvement and we certainly would not be as well off as we are without him. The Club has benefited greatly too.
I am happy Mike returned to the NWC and am delighted to see him achieve the AAA's highest rank!
Three cheers for
Field Marshal Sir Michael Davies, 1st Earl of Glamorgan K.C.B.
!!
Let us celebrate with all the Hedonator's one can drink!! (Two troughs for Sir Muddy's Horse!

) Food and music too!! Men of Harlech -
https://www.youtube.com/watch?v=gq8iS3VBNpw