Coronel del Regimiento Toledo y Subteniente Abanderado del Regimiento Mallorca
by Dionisio Alvarez Cueto
Medals, Awards & Orders to Anglo-Allied Army (AAA) Officers
On behalf of the
Army Commander (AC) Field Marshal Sir "Lucky" Jim Hall, 1st Duke of York & Albany K.G.
and
Army Chief of Staff (CoS) Field Marshal Sir Andrew Moss, 1st Duke of Wellington K.T.
, please join me in celebrating the awarding of the below Medals, Awards & Orders to the following Anglo-Allied Army (AAA) Officer:
Emblema do Oficial Grandioso da Ordem Militar de Cristo (Military Order of Christ Grand Officer Badge)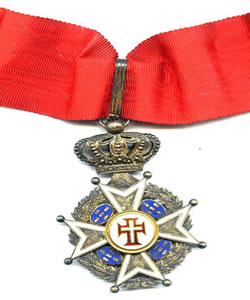 Capitán General José Faura, 1st Conde de Cádiz
Regimiento de infantería Sevilla nº1
Brigada Echávarri
3ª División Andalucía (España) (3nd Andalusia Division)
III (Peninsular) Corps
Honorary Command: 1er Regimiento de Granaderos de la Guardia Real de Infantería, Brigada de la Guardia Real de Infantería de España
Awarded for 15 victories over a French opponent.
---
I have ordered the playing of the "Los Voluntarios" in honor of this fine officer -
https://www.youtube.com/watch?v=uWnj_HfoYf8
Given under Hand and Seal, this 2nd day of June of the current year at Brussels,
Congrats Jose & keep up the gaming!!

http://www.wargame.ch/wc/nwc/Army_Webpa ... zette.html
_________________
Generalfeldmarschall Scott Kronprinz "Vorwärts" Ludwig von Preußen
Kommandeur des Königlich-Preußischen Armee-Korps
Chief of Staff (CoS) of the Allied Coalition
Allied Coalition Webmaster & Club Website Support